About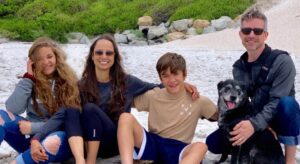 Contact us to schedule your private virtual meeting with our doctors
---
Elliston Pediatrics is an innovative practice that offers up to date medical care and advanced technologies to ensure a seamless, personal, and reliable approach to pediatric care.
The founders of Elliston Pediatrics are Heidi Meeker BSN, RNC-OB, MNN, LRN, EFM and Andrew Elliston M.D., FAAP. They are a husband and wife team with a combined 40 years of medical practice, and they are parents to two teenagers.
Elliston Pediatrics was born out of their own frustration and challenges with obtaining the best, timely and reliable care for their own children when they needed it most. Delay in proper care leads to poor outcomes and that is unacceptable for their children and yours. They work hard each and every day to provide your children with the care and attention they would have wanted for their own family.
Why Concierge Medicine?
Having a concierge pediatrician is the best investment you will ever make for your children.
Excellent preventative care is the most important tool for long term health. Your pediatrician will work with you to develop a personalized healthcare plan. During your visit, you'll enjoy an in-depth discussion of your child's health, development and behavior. The Elliston Pediatrics doctors have the time to provide detailed answers to any questions you may have and provide you with the education necessary so you can be the best partner in maintaining your child's health and development. 
As your child grows they need less frequent wellness visits but this does NOT mean they need less care. You want your growing child to have a trusting relationship with a pediatrician who will always be available and on their side.
Don't waste your time waiting in a germy waiting room for your children's appointments just to have 5 -10 minutes of a doctor's time. Your time is valuable and your concerns are valid.
Parents have plenty of stressors contesting for their time, especially when something seems wrong with their child. Having a doctor who is readily available makes a hectic situation more manageable and helps you avoid unnecessary emergency visits that cost you time and money. Get the care you need, when you need it, and get peace of mind, knowing you aren't alone no matter what time it is. Our expert doctors are always available to help. 
Our patient advocates are available to help you better navigate the sometimes broken and stressful healthcare system. We can connect you with top specialists, handle logistics of expedited appointment booking, and can help explain and follow up with insurance policies and plans.
Elliston Pediatrics is an innovative group of dedicated medical professionals always working to improve medical care and anticipate the needs of children in New York City.
Why concierge medicine? Because your children and you deserve the best!!